Domain name registration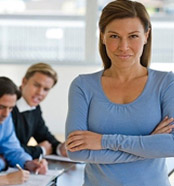 What's in a name? More Than You Think!
The power of choosing the right name for a website, blog or any internet venture cannot be undermined. Choosing the right name is essential to creating a successful online presence. Consider the following factors, when you take decisions for your next project domain name:
Don't complicate:
A name that is short and simple is always more effective than one that is lengthy or complex. People should be able to remember the name easily, and then not only will they log back in easily on to your site, but also refer it to their friends. A name which has to be written or memorized with effort, is a name that will always stand in the way of you and success.
Use the right keywords:
If your domain name has words that link to your business model or is rich in keywords, it will automatically get you a preferential treatment by Google or other search engines. Google sees links that use your domain name and land you higher ranks in search results.
These are some important tips that are intuitive, yet sometimes ignored.
Domain Transfer
What is domain transfer?
Domain name transfer is the process of changing the designated registrar of the domain names . The domain transfer follows a Policy on Transfer of Registrations between Registrars as defined by ICANN. During the domain transfer process, your website will continue to function without any problem or interruption. In addition, Adibas Host will extend your Registration term from its present expiry date!
How does domain transfer work?
Domain Transfer to Bigrock works in Four Easy Steps!
1. Enter the domain name you'd like to transfer
2. Enter transfer authentication code & check your email to authorize
3. Accept the release of your domain for the old registrar
4. Receive email confirmation of successful domain transfer to Adibas Host